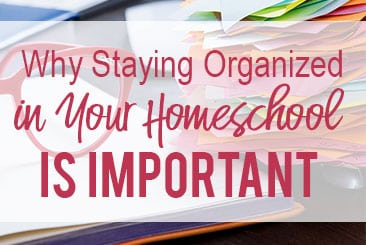 When I first started homeschooling I miscalculated my success rate. I was excited about the freedom that homeschooling would afford our family. I envisioned a wrinkle-free environment where my kids would willingly love learning from me, would be enthusiastic to be home, and would not face bullies or disenchanted teachers.
They received a determined mom in the beginning, but 6 months in, I was a momster momniac struggling to get through the day and to put dinner on the table. I realized that no structured order in my home meant utter chaos. Even in the freedom that homeschooling allows, some organization is exactly what we need to succeed and just frankly, not throw in the towel.
I decided that something had to give. I should have known better. As an early education teacher, I knew that every year, the beginning of the year needed to start with a set routine and a set of rules to follow before I even thought about teaching lessons. Why I thought schooling would be different for my own children just boggles my mind now. Well, we live and we learn.
The honest truth is that you can plan to "get organized" and take steps to plan your homeschool, but then the house cleaning flops or dinner doesn't get done on time. Then what? It is important to realize that at that very moment we decide everything is too much, we also easily forget the very reason why we decided to homeschool in the first place.
In whatever space you find yourself in today, whether it be spending hours on one lesson that should have taken you 15 minutes or your laundry is piling up miles high, some organization will help you tremendously. Taking steps to get organized didn't help me immediately, and you will see that it won't have lasting effects either. Let me explain.
Usually, when I find myself out of sorts, I can trace it back to putting my MAIN priority in the back burner. My son is super hyperactive. Even with cutting out red dyes and sugar during the week, along with assuring he gets ample sleep time at night, he still can't sit still for long periods of time. God love him, he would rather be knee deep in the dirt and playing rugby any day, especially during homeschool.
His reading lessons were taking me all day; it literally had me in tears. I couldn't attend to his needs and deal with my home at the same time. I had to face the day knowing dinner wasn't getting ready on time or housework wouldn't be getting done the way I liked. My son was overwhelmed, I was a momster momniac, and my daughter was being ignored. Why did I think I would be soo good at this homeschool thing?
Oh, that is right! I knew that the Lord would get me through. I trusted, when we first made the homeschool plunge, that this was the Lord's will and I trusted Him to finish the good work he started. If I knew that was true, then why wasn't I turning, better yet running to him for help?
In my time with the Lord, I read about God being a God of order. I have talked to people about this plenty of times in the context of order during the assembly of believers. I knew that the Lord was meticulously detailed and exemplified order to us in his good word. I knew it was true for a body of believers but ignored that it might be true in my home as well.
God 's Word is everlasting and living water. It truly provides guidance for us in our everyday lives. He showed me that I could apply order to my home and homeschool. There would be blessing in the obedience to follow his word and guidance.
Paul advises the Corinthian church, "Let all things be done decently and in order" (1 Corinthians 14:40). If we stop for a moment to contemplate just how this applies to our life we would see that it would benefit us to bow the knee and ask the Lord to help us bring order into our homes.
God's creation was perfect, the sun sets and rises without a change. His divine nature is weaved throughout the Bible from Genesis to Revelation. God's blatant unfolding of order in scriptures lets us know that without it, chaos will soon follow.
A key to getting organized lies with the PLANNING stage. God was a perfect and good planner. God prepared a way for us and purposed us to be his handiwork (Ephesians 2:10). Having an understanding of his plan, along with how he establishes our steps beforehand (Proverbs 16:9), gives us a clear picture of how intentional we should be about organizing our home; the first ministry that was assigned to us.
The Bible as a whole is a great plan of salvation for us all, Ephesians 1:5 -6 tells us that God decided in advance to adopt us into his own family by bringing us to himself through Jesus Christ. This is what he wanted to do, and it gave him great pleasure.
I understood how it really does bring great pleasure to bless my children and home with a plan that will organize them both. Knowing that our good Father exemplified order for us helps us to submit the chaos to him and to establish an organized home. We know this obedience would please the Lord, and everything else will stem from that.
After realizing that he would be pleased with me seeking him first in my home, my next step was finding a tool to help me. Even the Proverbs 31 women needed help!
Homeschool Planet provides a planner that would help you keep your home schedule and homeschool organized. A few of our most popular features include automatic rescheduling assignments, having your home, school, and work schedules in one place, customizable grading/attendance/reporting, and daily/weekly reminders.
Homeschool Planet is an easy, flexible, full-featured online planner you can use on multiple devices and doesn't require much effort to learn.
Check out Homeschool Planet to help you calm the chaos with a 30-day FREE trial. No credit card information is necessary to give it a try!

At last — an easy, flexible, full-featured online planner that doesn't require hours to learn. Just launch, click on the calendar, and start adding classes, assignments, and appointments!