Math is one of the core subjects taught in education, and therefore we spend a lot of time teaching it as parents. Many homeschooling parents will switch math curricula over and over again finding a good fit for their homeschool students. Depending on your child's natural skill sets or challenges, finding a math curriculum that works might be tough. Cheat sheets can be a very helpful addition to any math curriculum!
The Reason for Math Cheat Sheets
I have found "cheat sheets" to be extraordinarily helpful in our homeschool. Considering, we teach our children not to cheat, this might sound counterintuitive. For any child, but especially those with learning difficulties, cheat sheets can be very necessary resources to support your child's learning. This practice of using quick reference guides is not in fact cheating. Having the ability to use supportive educational aids could be what makes a child feel confident that he or she can complete an assignment efficiently and effectively.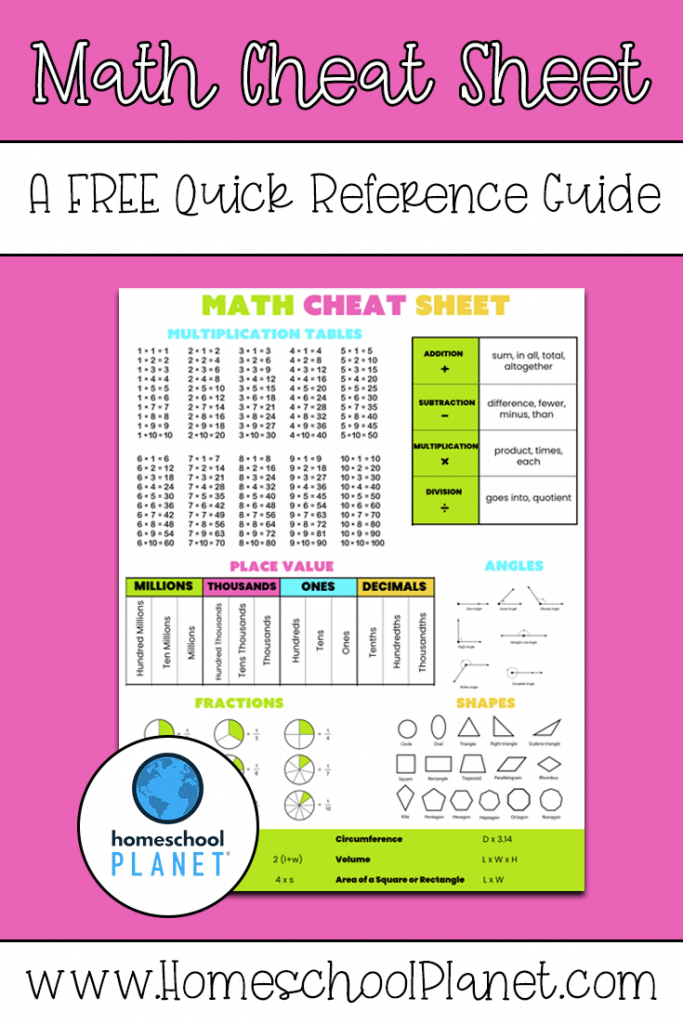 Cheat sheets are not as stout a resource as a calculator, so they can be given to younger children. Basically, cheat sheets just give basic facts the child will have already drilled for memorization. However, many kids struggle to recall facts under pressure, so this is where a reference guide can help give a boost. For my dyslexic child, cheat sheets are key to helping her complete lessons and achieve a feeling of success.
FREE Math Cheat Sheet
Our free math cheat sheet download is a handy tool to help your homeschool students with math. Sometimes when they can look at something as they are completing their work their brain does a better job of memorizing it. This works well for visual learners.
There are so many facts to remember when it comes to math, so it is nice to have a handy sheet to look at when you need help. This also frees you up as the parent to do other things because your kids are practicing independent learning by searching for their answers themselves.
Like the idea of this math cheat sheet? Check out our Grammar Cheat Sheet here.