Assignment Lists
Create and customize an Assignment List so your students, or you, can track what needs to be completed in a day, week, month, or timeline that you specify with your Homeschool Planet planner. The step-by-step directions below will help you to customize this report so it works best for YOUR family's needs!
At Homeschool Planet users who want a printout of work assigned can choose between three basic formats. Each format can be printed for a single day, a week, or a month. Additionally it can be printed for one student at a time, all students, or a combination of students. Some parents want a printed list for their grammar students but allow their middle school and high school students to log into Homeschool Planet directly. Since each family has unique needs we have tried to create multiple options. We recommend you play around with views and combinations to find what suits your family the best.
The three formats for assignment printouts~
An Assignment List is a list of individual assignments to be completed (or that have been completed) over a specific range of time. The assignments are in a list format down the page. It is printed in black and white.
The Planner View lists the same assignments in the same format as what you see on the screen while in Planner Mode. It is also in list format, but with much more "white space"~ some parents enjoy the less cluttered look and others find it takes too much paper to print using this format. It can be printed in black and white or in color.
The Calendar View prints again, like the format seen in the Calendar view on your computer screen. It looks more like a typical "planner" or "calendar" view with the days of the week across the top and the assignments for each day in columns under the appropriate headings. It also can be printed in black and white or color.
Screenshot images of the three types of assignment printouts~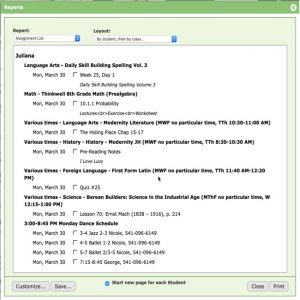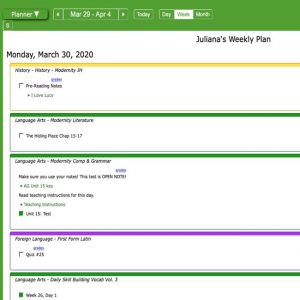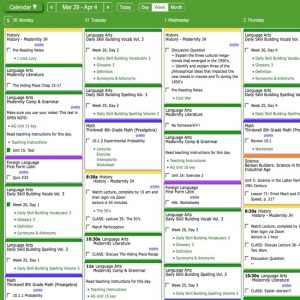 Customizing Your Assignment List
First select Assignment Lists from the Reports menu.
Next choose "customize" from the lower right hand corner.
Make selections for each of the drop down boxes.
* Student– decide which students you wish to be included in the Assignment List by placing a check mark next to their name. You will be able to separate the list by student (and have each one print on a separate page) later in these directions.
* Subject/Category– If you wish to limit the assignments or activities included select only those you desire with a check mark. If you want all items to appear you mean leave them all unchecked.
* No Earlier Than/No Later Than– The default is to print just "today's" lessons. If you wish to change the date parameters do so by adjusting the dates included here. It can be in the past or in the future.
* School Year– Select the school year you wish to create the report for.
* Category– Limit the grading categories included by checking only those you wish to see in the report or leave them all unchecked to see all assignments.
* Completion– Choose whether to use completed assignments, uncompleted assignments, or both.
* Resources– Make the appropriate selection for which resources you desire to be included.
* Select OK to save your choices.
There is a "Layout" menu across the top of the pop-up. Choose the option that best meets your needs.
Decide whether to have each students assignment list start on a new page and check the box in the bottom center of the pop-up if this is your pick. Unchecking the box will have all student's lists roll into a continuous document.
Select Print from the lower right hand corner.
See Screenshots below for more help!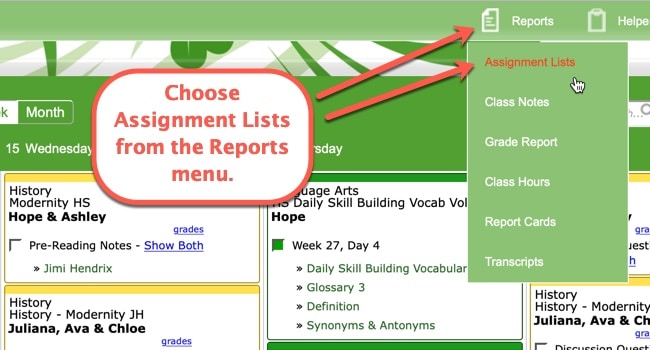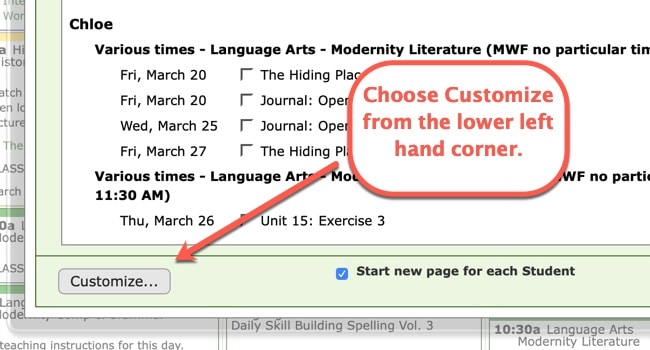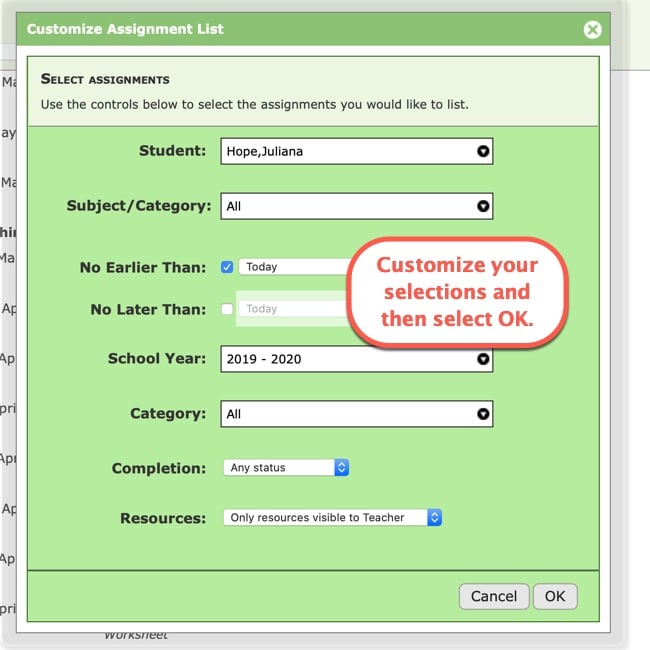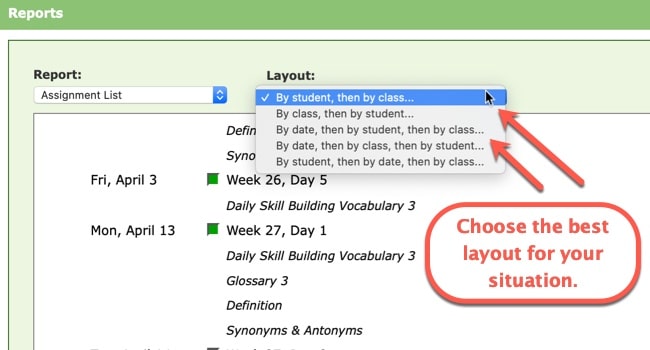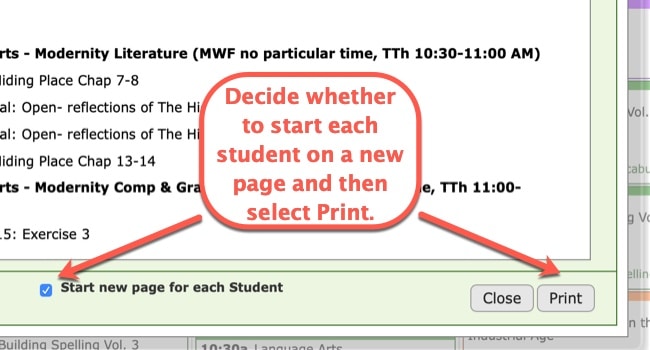 Creating Assignment Lists Video Tutorial
As always, feel free to reach out to us with any questions at support@homeschoolplanet.com. We are here to help you!
For more User Guide entries about Assignments, please see the links below:
Not a Subscriber yet? Check out Homeschool Planet for yourself with a 30-day FREE trial. No credit card information is necessary to give it a try!
With Homeschool Planet lesson plans, homeschooling has never been easier!